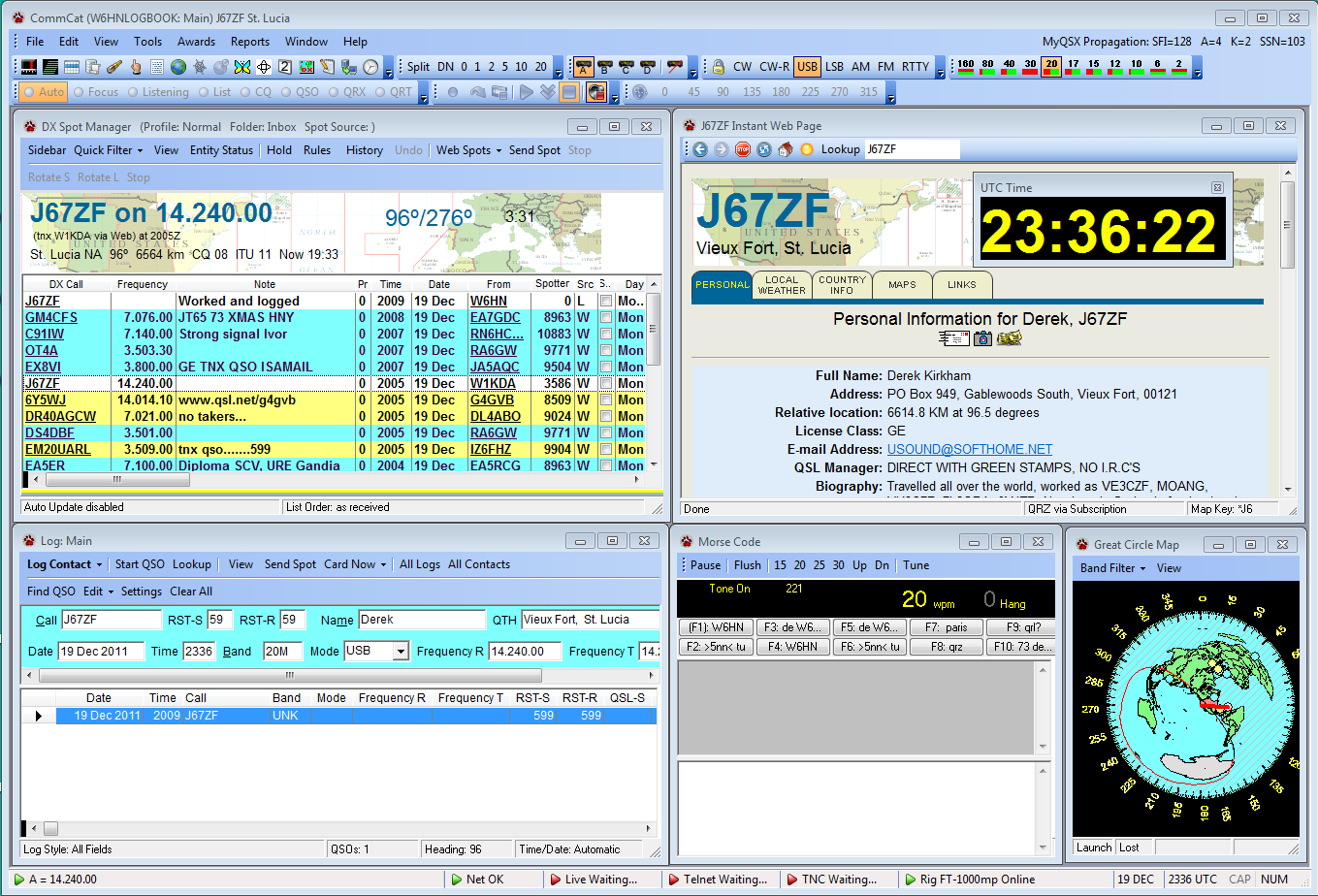 CommCat provides flexibility in how its various windows can be arranged, depending on your interests and operating needs. The window arrangement is retained by CommCat so the next time you start the program, the windows can be opened the they were before. An option is available to allow you to move CommCat windows out of the main window, which is perfect if you are using more than one monitor, or want to use CommCat with another program.
Going in a clockwise direction from the upper left, the following windows are in use in this typical arrangement (click a window in the image, above, to go to the associated help topic for that window):

| | |
| --- | --- |
| | The DX Spot Manager is the heart of the CommCat DX Spot monitoring system. Spots from a Telnet connection, Web Cluster, Packet Cluster, and spots you create locally, are listed and tested against rules you define for alerts and other actions. |
| | Shows a web page from the perspective of the DX station. |
| | Shows world map centered on your location. The most recent DX spots and gray line are superimposed. If you have a rotor that can be controlled by a computer, the antenna direction and representative beam pattern are also shown. |
| | Send Morse code from CommCat. |
| | Enter the necessary contact data into your logbook through this window. CommCat fills in most of the blanks for you. |
A number of selectable toolbars are shown at the top of the CommCat window. In this setup the Navigation, Split, Radio, Mode, Band, Live Annunciator, Recording, and Rotor toolbars are in use.
In the status bar at the bottom of the window the current frequency, Internet status, CommCat Live, Telnet, TNC, and Rig status, plus date and time are shown.