CommCat provide a Live window you can open while connected to CommCat Live. You can also monitor your site using a browser, but the Live window takes less screen space and has more information. The Live window is shown below.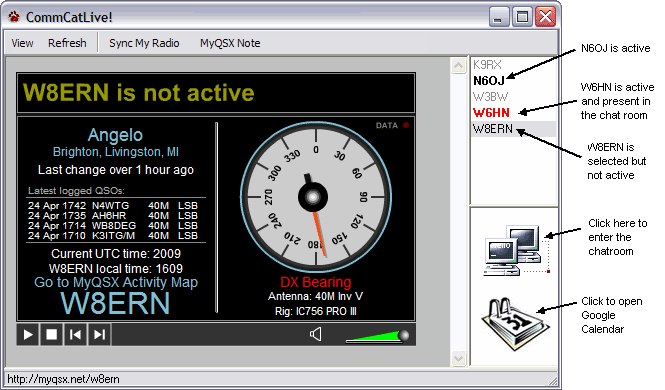 The Live window has three sections: a mini browser where you can watch your CommCat Live main panel, or those of others; a list of CommCat Live users showing their current status, and a link panel that is used to start the CommCat Live chatroom or open Google Calendar.
The List window shows active and inactive calls. If you wish to list only active calls, click the Active Call option in the View menu.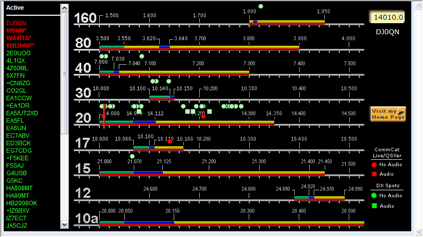 You can View the main CommCat Live status panel, the streaming s-meter, Full Live Site to show the entire CommCat Live page, and Radio to view CommCat Live and DX spots on a radio dial (see above). When in the main panel mode, a player at the bottom of the panel can be used to play audio clips. You can also turn off the Live updates and use manual Refresh to update the panel. If you find the constant data stream to cause problems, especially when using CW, turn off live updates.
DX spots are shown as green dots, and CommCat Live or QSXer as red dots, on the radio dial. Round dots are used to indicate activity, while square dots show there is an audio clip available for that station. Click a circle to "tune" to the spot's frequency, or a square to tune and to play the audio clip for that station. The list of calls on the left shows CommCat Live/QSXer and DX Spots in alphabetical order. A call followed by an asterisk is a CommCat Live user. A plus in front of a call indicates there is an audio clip for that station. Click Sync My Radio in the Live toolbar to tune your radio to the frequency shown in the radio dial.
Click Sync My Radio to synchronize your radio's frequency and mode with the CommCat Live user you are watching. This is a fun way to listen in on other CommCat Live users, provided the band conditions are favorable.
The MyQSX Note appears in the information balloon visitors to the MyQSX site will see when they click your pin. Change the note by clicking MyQSX Note to open the note edit window.
CommCat Live Chatroom
The Chatroom is a web page that allows you to text chat with other CommCat Live users in real time. Follow the instructions in the Chatroom to register so you can use this feature.
Google Calendar
Click the calendar icon to open Google Calendar in a new browser window. If you don't see the Google Calendar icon, go to Live settings and set up the right links. See the Google Calendar settings in the CommCat Live Getting Started Help topic for more information.