The CommCat Live site for any user can be viewed on your cell phone using the mobile browser. The view below show how it might appear on a Siemens phone.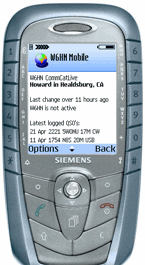 Point your browser to the following URL to navigate to the site of your choice:
http://w6hn.myqsx.net/m.php
Replace the call W6HN with the call you want to view. You can also use your normal browser to see the data as it will appear on a cell phone.