CommCat uses a connection to the Internet for many of its functions. The following is a list of operations that require this connection: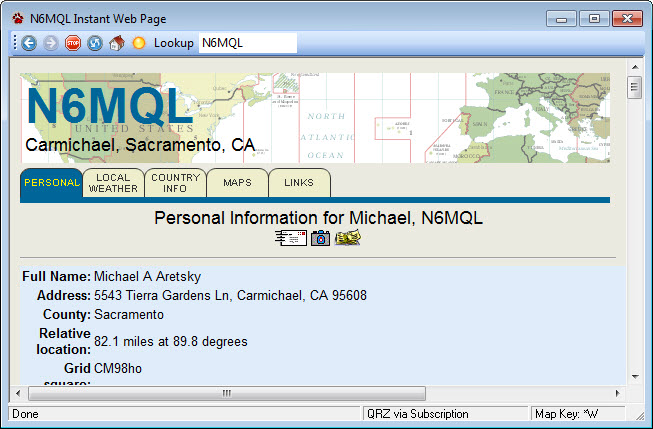 •Instant Web Page, including weather and Google map
•Internet DX Cluster spot retrieval
•Call sign lookup (if CommCat is configured for an Internet callbook)
•E-mail spot notification (if activated)
•iPhone DX Push Notifications
•Live status updates
•Live site customization
•MyQSX Mirror Log
•Map display (QSXer or Live required)
•CIA Factbook (QSXer or Live required)
•Sun spot number retrieval
•QSL template exchange
•DX Spot Manager Rule Profile exchange
CommCat can use any Internet connection ranging from dial-up, to a broadband connection that is continuously available. CommCat tests the Internet connection when it starts to see if an active connection is present. When CommCat determines that there is an Internet connection, the Net status light at the bottom of the main screen is green.
See the CommCat Internet settings topic for information on the necessary settings.
E-mail Technical Requirements
CommCat uses SMTP (Simple Mail Transfer Protocol) and POP3 for all e-mail functions. If your Internet service does not send and receive mail using these protocols, the CommCat e-mail functions will not work. (CommCat Live subscribers can use the MyQSX mail system, however.) Since AOL uses a proprietary system for mail exchange, AOL is not compatible with CommCat e-mail functions.