Overview
The Northern California DX Foundation has sponsored 18 CW beacons around the world. By monitoring these beacons it is possible to determine whether a band is currently open to the location of the beacon.
CommCat provides the ability to monitor and identify beacon transmissions to help determine band conditions. Beacon transmissions are made on the 20, 18, 15, 12 and 10 meter amateur bands. Not all beacons are available on all bands, although time slots are provided for each of the 18 stations. Additional details describing the world-wide beacon system appear below (map provided by the NCDXC Foundation).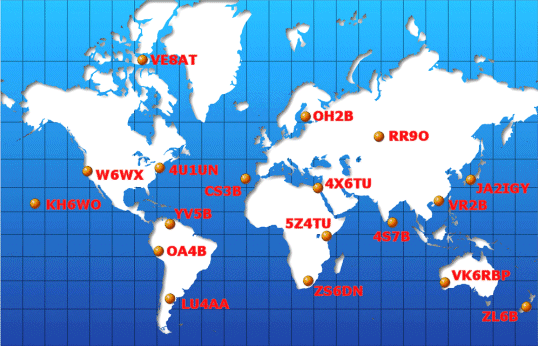 The Tuner and Map windows provide beacon information and monitoring control. To tune the radio to the beacon frequency on one of the supported bands:

•Open the Tuner window
•Click Beacons
•Click the beacon icon (triangle) in the band you wish to monitor
Beacon Locations
Use the Map window to display the location of all beacon stations. To display the beacon locations:

•Open the Map window
•Click Beacons
Beacon locations are marked on the map by "+" symbols. If you are currently monitoring a beacon frequency (using the steps above), a line is drawn from your location to each beacon location as its turn comes.
The following information is taken directly from the Northern California DX Foundation web site at http://www.ncdxf.org
Please visit their web site for the latest information about beacon status and schedules.
NCDXF/IARU Beacon Transmission Schedule
The table below gives the minute and second within each hour of the start of the first transmission of each of beacon on each frequency. Each CW transmission cycle is repeated every three minutes. A transmission consists of the call sign of the beacon sent at 22 words per minute followed by four one-second dashes. The call sign and the first dash are sent at 100 watts. The remaining dashes are sent at 10 watts, 1 watt and 0.1 watts.
The actual starting time of each transmission is approximately twenty milliseconds after the nominal time due to the keying delay of the transmitter. Equipment used at each beacon site includes a Kenwood TS-50S transmitter, a Cushcraft R-5 vertical antenna, a Trimble Navigation Acutime™ GPS receiver (recently updated and renamed the Palasade ™) and a controller built by the NCDXF. For more information, see:
The NCDXF/IARU International Beacon Network by John G. Troster and Robert S. Fabry, QST, October 1994 pp. 31-33 and November 1994 pp. 49-51
The NCDXF/IARU International Beacon Project by John G. Troster and Robert S. Fabry, QST, September 1997 pp. 47-48
or contact the Northern California DX Foundation, PO Box 1328, Los Altos, CA 94023-1328, USA.
| Slot | DX Entity | Call | 14.100 | 18.110 | 21.150 | 24.930 | 28.200 | Operator | Status |
| --- | --- | --- | --- | --- | --- | --- | --- | --- | --- |
| 1 | United Nations | 4U1UN | 00:00 | 00:10 | 00:20 | 00:30 | 00:40 | UNRC | OFF as of 1/3/2012 |
| 2 | Canada | | 00:10 | 00:20 | 00:30 | 00:40 | 00:50 | | OK |
| 3 | United States | | 00:20 | 00:30 | 00:40 | 00:50 | 01:00 | | OK |
| 4 | Hawaii | KH6WO | 00:30 | OFF | 00:50 | OFF | 01:10 | | OK |
| 5 | New Zealand | ZL6B | 00:40 | 00:50 | 01:00 | 01:10 | 01:20 | | OK |
| 6 | Australia | | 00:50 | 01:00 | 01:10 | 01:20 | 01:30 | | OK |
| 7 | Japan | JA2IGY | 01:00 | 01:10 | 01:20 | 01:30 | 01:40 | | OK |
| 8 | Russia | RR9O | 01:10 | 01:20 | 01:30 | 01:40 | 01:50 | | OK |
| 9 | Hong Kong | VR2B | 01:20 | 01:30 | 01:40 | 01:50 | 02:00 | | OK |
| 10 | Sri Lanka | | 01:30 | 01:40 | 01:50 | 02:00 | 02:10 | | OK |
| 11 | South Africa | ZS6DN | 01:40 | 01:50 | 02:00 | 02:10 | 02:20 | | OK |
| 12 | Kenya | 5Z4B | 01:50 | 02:00 | 02:10 | 02:20 | 02:30 | | OFF as of 1/3/2012 |
| 13 | Israel | 4X6TU | 02:00 | 02:10 | 02:20 | 02:30 | 02:40 | | OK |
| 14 | Finland | OH2B | 02:10 | 02:20 | 02:30 | 02:40 | 02:50 | | OK |
| ok15 | Madeira | CS3B | 02:20 | 02:30 | 02:40 | 02:50 | 00:00 | | OFF as of 1/3/2012 |
| 16 | Argentina | LU4AA | 02:30 | 02:40 | 02:50 | 00:00 | 00:10 | | OK |
| 17 | Peru | OA4B | 02:40 | 02:50 | 00:00 | 00:10 | 00:20 | | OFF as of 1/3/2012 |
| 18 | Venezuela | YV5B | 02:50 | 00:00 | 00:10 | 00:20 | 00:30 | | OFF as of 1/3/2012 |