The main CommCat Live status panel shows your current operating conditions. The panel is updated approximately once every three seconds. When data is received in the panel, the DATA light flashes. The data includes:

•Your transmit frequency
•Receive frequency
•Mode
•Operating state
•Time since last change
•Your last 4 logged contacts
•Current local and UTC time
•Bearing to the current DX
•Rotor bearing if computer controlled
•Current antenna and rig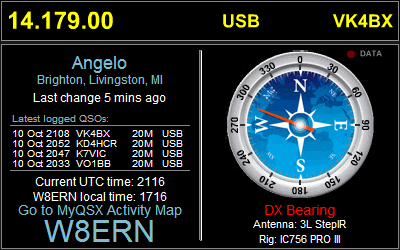 The current operating state show above is the current DX focus call (VK4BX). Other states that may appear include the following:

•Listening...
•in QSO
•QRX
•calling CQ
•now QRT
•Contact List
•Tuning...
These states are set by the Live toolbar in CommCat. To add the Live toolbar to the CommCat main window, right-click over an existing toolbar and select Live.

When the Auto mode is selected, CommCat chooses the operating state depending on what it sees. The operating state changes as you tune to a spot, tune your radio, or haven't made any changes in 15 minutes.
The current DX call is the DX Focus call in CommCat. This call reflects the latest spot to which you've tuned, or the latest logged contact. The call in the CommCat title bar is the current DX Focus call.
The List state enables the contact list in the CommCat Live. Visitors to your site can go to the List to leave short notes similar to "Instant Messages" or ask to be called as you work your way down the list.
If you haven't made any changes (added a contact to your log, tuned your radio, etc.) in 15 minutes, CommCat Live displays "W6HN is not active" with your call in place of W6HN. If you select any of the states from QSO through List, the 15 minute timer is not used.