Receiving E-Mail From CommCat Live
When you enable e-mail in CommCat Live Settings, the e-mail form is present in the CommCat Live Contact tab. The form has boxes to enter the visitor's e-mail address, call sign and message. Once the boxes are filled, the e-mail message is sent to you by clicking Send E-mail to N6OJ, with your call in place of N6OJ.
You e-mail address is kept private through the use of the form.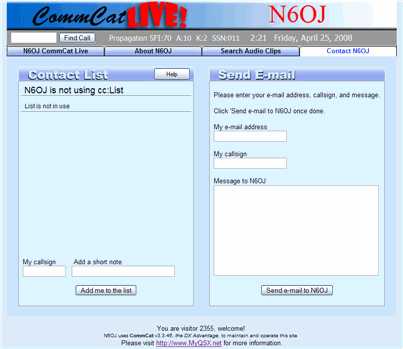 Configuring E-mail
E-mail on your site is enabled using the Live Settings general tab. Place a check in the Enable CommCat Live E-mail check box and your e-mail address in the My E-mail box. Click Save E-mail to update your web site. Enabling E-mail also turns on the cc:List feature on the same web page. If you want to see how your Contact page looks, click View My Site.