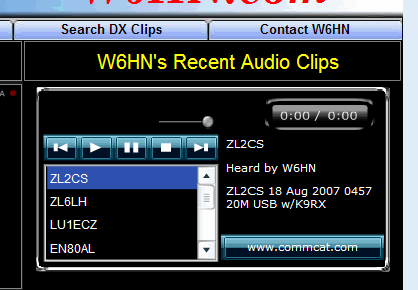 The CommCat audio player is used by visitors to your CommCat Live site to listen to your recent recordings. Select a clip to play it, and use the playback controls to stop or pause the playback. The volume can be adjusted by the slider above the playback controls. The time display shows the length in minutes and seconds of the selected clip.
Recording and uploading audio clips
Clips are created in CommCat by using the Audio Toolbar. To add the Audio toolbar to the CommCat main window, right-click over an existing toolbar and select Audio.

To start recording click Rec. The caption Rec changes to a number which counts the number of elapsed seconds up to 30.
To stop the recorder, click Stop.
If you have installed the audio editing program Audacity and have selected the option Edit with Audacity in Audio Clip settings, the Audacity window opens showing the clip you have just recorded. If you are not using Audacity, CommCat takes you directly to the Upload dialog, below.
Using Audacity you can adjust levels and remove silent portions of the clip before uploading. When you have edited the clip, select Export As... MP3 in the Audacity File menu. Save the clip in the CommCat Audio folder using the name output.mp3. Click Save and Exit Audacity. If Audacity asks if you want to overwrite a file of the same name, click Yes. Finally, Audacity will ask if you want to save the changes, reply No.
CommCat asks if you want to upload the clip to Live. To proceed, click Yes.
The Audio Description window opens for you to describe the clip. Make sure the DX call is correct, and that the description is accurate. Edit the credit to show whether you actually logged the contact or were simply listening.
Click OK to upload the clip or Cancel to stop the process.
While you are recording you can check the audio levels and audio buffer status by opening the Recorder window in the Tools, Live menu.
Streaming
The CommCat Live audio stream sends your receiver audio to the Live site in a continuous stream. See the Streaming topic for more information on how to use this capability.