CommCat provides the FCC Database on the CD-ROM for optional installation. You may wish to install this database if you do not have on-line access to the FCC data or QRZ.com. The complete FCC Database is updated once per week with the most recent license information. The license file can be downloaded from the FCC web site if you wish to update your data. Note that this is a large file of over 75 MB. If you are connected to the Internet over a standard telephone line, it may take over 5 hours to download this file. If you are using a cable modem or DSL connection it should take approximately 15 minutes.
Updating the FCC Database

•Download the file named l_amat.zip from the FCC into any folder you wish. Once CommCat has translated this file it can be deleted.
•Start CommCat and open the FCC Data Conversion window from the File, Maintenance menu.
•Click Folder open and find the file named l_amat.zip on your system.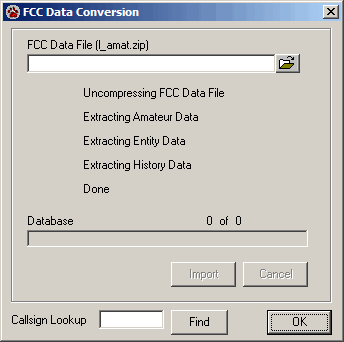 •Click Import. CommCat proceeds to uncompress the ZIP file, extract the necessary data, and build the FCC database used by CommCat. This will take some time to complete because of the number of records involved. A computer operating at 700 MHz requires about 90 minutes to complete the translation.
Once the translation is complete you can test the database by entering a valid US call sign in the text box and clicking Find.