Important note: If you are unable to connect to your radio using Express Setup, go directly to File>Settings>Radio/Ant>Radio A and use the settings window to enter the parameters for your radio.
The first time you start CommCat, Express Setup opens. By following the easy steps presented by Express Setup you will have CommCat running with your rig in a few minutes. Later you can go back and use the various Settings windows to further customize your preferences.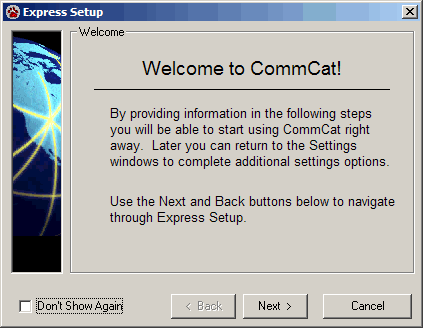 If you wish to skip Express Setup, click Set Up Later. Unless you check Don't Show Again, Express Setup will open each time you start CommCat until you have specified your rig. You can also start Express Setup from the CommCat Help menu. Once you have specified your rig, the Help menu Express Setup option is dimmed.
To continue, click Next.
The name and call sign you specified during installation appear in this window.
Click Next to continue.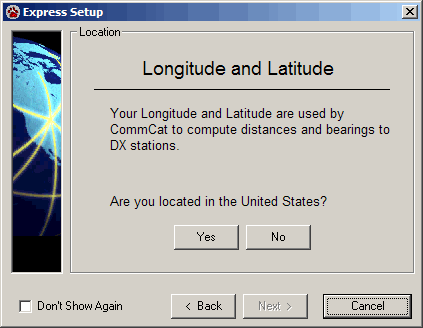 CommCat uses your Longitude and Latitude to compute bearings and distances in several places. For example, CommCat rotor control uses the bearing from your location to the DX station to determine where to direct the antenna. If you are in the United States, CommCat can use your ZIP code to compute your Longitude and Latitude. This convenience is not available for those outside the US.
Click Yes (if you live in the US) or No (if you live outside the US) to continue.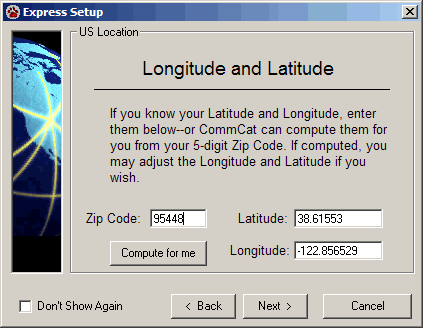 If you are located in the United States, you can ask CommCat to find your Longitude and Latitude from your ZIP code, or, if you already know them, you may enter them yourself. In the United States, Latitude is a positive number and Longitude is a negative number. (If you are outside the United States, CommCat asks that you enter your Longitude and Latitude manually.) Enter your ZIP code and click Compute, or enter the values you wish to use.
Click Next to continue.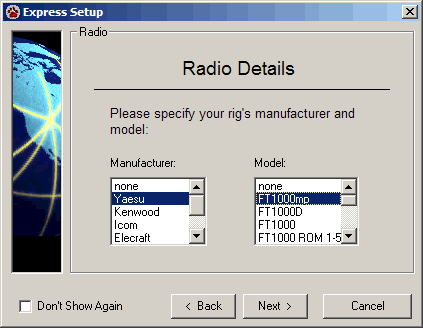 Next specify the Manufacturer and Model of your Rig.
Click Next to continue.
If you are using and Icom rig, an additional Radio window opens allowing you to specify the Icom CI-V address for your rig and handshaking options.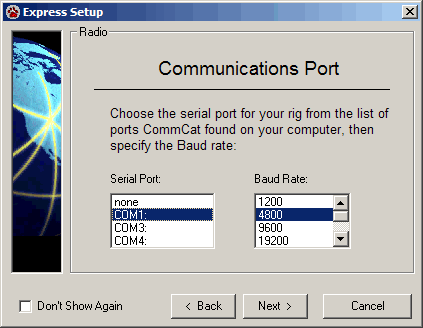 Specify the serial port used to control your rig. CommCat checks your computer for available serial ports and presents them in the Serial Port list. Finally, specify the Baud rate used for communications with your rig. If you are unsure of the Baud rate, please check the manual for your rig or interface module.
Click Next to continue.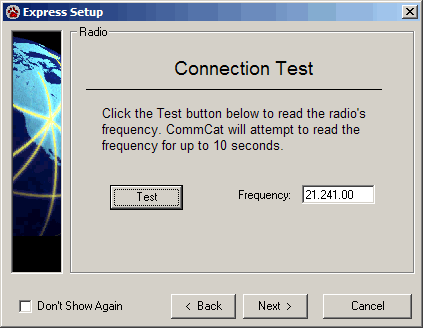 CommCat now tests the connection between the computer and your rig to make sure the communications setup is correct. Make sure your rig is turned on and connected to the serial port you have specified. Click Test to start the connection test. If a connection is established, the rig's frequency will appear in the Frequency box. CommCat attempts to connect for approximately 10 seconds. If a connection is not established, CommCat notifies you of a potential problem.
If the connection is successful, click Next to continue. If the connection fails, click Back to review your rig, port and Baud rate selections. Sometimes it is better to bypass Express Setup if your radio fails to connect. Exit Express Setup and go to File>Settings>Radio/Ant and use Radio A to add the settings for your radio.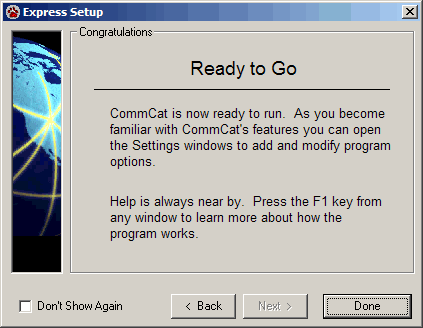 With a successful rig connection, you are now ready to start using CommCat. Congratulations and welcome!